Below you'll find a comprehensive list of 40+ must-have tools for marketing agencies. These tools will help you save time, money, and let you focus on delivering the best client experience.
Running a marketing agency is no small feat.
Delivering your best work to clients on time, scaling your agency for sustainable growth, delivering the best client onboarding experience possible, and gaining a competitive edge over other agencies takes time and (a lot of) effort. To do all this (avoid burning out), you need to work smarter and faster.
And for that you need tools. A lot of tools.
To make matters more difficult, there's no shortage of tools for marketing agencies. So we've taken the liberty of discussing 40 of the best marketing tools to help digital agencies work smarter, faster, and deliver the best possible results for their clients.
From creating optimized landing pages and websites to tracking social media marketing campaigns, this article tells all.
Let's dive in.
Website Management Tools for Marketing Agencies
If your clients don't already have a website or a dedicated landing page for their products and services, this is a great place to start.
1. CMS platforms
Whether you want to start a blog for your client or simply want a website to showcase their products and services, a Content Management System is an essential tool for marketing agencies. It helps you save time with creating, updating, and managing content on a website without requiring HTML skills or other technical knowledge.
In other words, it allows you to focus on the forward-facing parts of the website and leave all the technical bits for the CMS to manage. Just log in to your CMS of choice and start creating web pages and content, move around plugins without worrying about which HTML files to write and upload to the server.
As an agency handling multiple clients and your own brand, a CMS is a great tool to invest in.
There are several different kinds of Content Management systems you can opt for – let's discuss 3 of the most popular options.
By far the most popular CMS is WordPress. After all, it powers 40% of all websites in the digital sphere and over 70 million ecommerce shops.
From The New Yorker to the official White House website, many marketers opt to use WordPress to manage their online content and build a digital presence.
WordPress's best feature is best known for its user-friendly interface, custom design and functionality, easy installation and update process, and endless customization options.
It's an open source CMS which means that anyone (even your 80 year old neighbor) can download, edit, customize, and use it for free. This also allows for developers around the world to develop plugins that you can use to easily enhance your website.
However, with WordPress you'll need to pay for hosting and a domain name. SiteGround is a popular hosting choice for sites running on WP.
WIX is WordPress's low maintenance sister – a fully cloud-based platform great for agencies who're just starting out and have zero technical skills, budget, or manpower for building websites.
It's easier to create a website on Wix than WordPress with a drag and drop option for its various elements. And with over 800 templates to choose from, agencies with no time or money to spare, can easily create a beautiful website catered to their clients needs in a jiffy.
Several brands and businesses, including Ravin AI, have created gorgeous websites with Wix.
It has monthly and yearly packages that start from $18/month and go up to $47/month depending on your needs.
Similar to wordpress, Joomla is a free open source CMS. Since 2006, it has been downloaded over 30 millions times!
With a plethora of customizable templates and built-in multi-lingual support, Joomla requires a bit more technical skills than other CMSs. However, it also offers more flexibility.
Popular brands and businesses like IKEA and Harvard University use Joomla.
If you're willing to invest some time in learning how Joomla works or have advanced developer skills, it offers you the freedom to edit code, customize, and use templates and extensions to create a incredible websites for your clients.
2. WordPress Theme Builders
WordPress websites are built from "themes." There are thousands of free themes out there that you can edit natively in WP. There are also a variety of WordPress theme builders designed to simplify the experience even more!
Theme builders allow you to completely customize page layouts and change various elements of your website with ease.
Let's discuss some popular WordPress Theme builders you can invest in.
With stellar customer support, a powerful "what you see is what you get editor", excellent pricing plans, Elegant Themes is one of the best WordPress theme builders.
Elegant Themes subscriptions are priced at $89 a year, or you can opt-in for lifetime access for only $249!
They offer two base themes – Divi and Extra. These themes come preloaded with 100s of templates that you can work off of, or you can build your own. Over 1,971,573 websites use Divi on their WordPress sites.
Divi also comes with a variety of free plugins like Bloom and Monarch.
So whether you're looking to create a brand new website or looking to upgrade your existing site, investing in Elegant Themes (and benefitting from it's awesome plugins and themes) is a great choice.
Similar to Elegant Themes, Elementor is a drag and drop page builder for WordPress. Elementor is Divi's number one competitor and is known for its ease of use. It works with all WordPress themes and you can easily create any content or page layout that you desire through it.
The best part about it is that it offers 90% of its functionality for free! However, its Pro edition is super cheap too, starting at just $49/year. So if your client's on a budget or you have time constraints and still want to build a gorgeous looking and user-friendly website, Elementor is a great choice for your agency.
Beaver Builder is a WordPress page builder plugin available in both free and paid versions (called Beaver Themes and starts at $99 annually). Similar to Divi and Elementor, Beaver Builder is known for its drag and drop functionality and easy implementation.
It works with pretty much every WordPress theme, and the paid version unlocks even more customizable features for you.
3. Landing Page Builders
If you're managing PPC for your clients, landing page builders a necessary tool for your agency. According to HubSpot, using more landing pages can increase lead volumes by 55%.
There are a ton of landing page builders that help you whip up a great landing page in no time. But, which ones are the best for your marketing agency?
Unbounce is the gold-standard, when it comes to landing page builders.
A pioneer in the landing page builder space, this no-code landing page builder is easy to use, loaded with conversion-optimization features, and features over 100 high-converting landing page templates that you can work off of.
From features like overlay CTAs and exit intent to dynamic text replacement, it has everything a conversion-obsessed marketer can dream of. It's an essential tool for marketing agencies.
Prices start at $80/month and can go up to $300/month.
As the name suggests, InstaPage allows you to create a landing page almost instantly.
It's super easy to use (thank you, drag and drop builder!), has over 200 customizable, conversion-optimised templates to choose from (works great if you're handling multiple clients with different marketing needs and offerings), and easily integrates with other platforms.
Natalia Blair of Noetic Marketer shares that one of the best marketing tools she's worked with is Instapage.
Why?
Blair explains, "Instapage is a functional and straightforward tool for marketers that doesn't require coding experience. All users can create beautiful landing pages for their products and services using the drag-and-drop menu.
Instapage allows users to A/B test landing page variations. This feature comes in handy when determining the best headlines, images, or landing page structure. The platform also allows users to integrate Instapage into other programs such as Mailchimp and Google Analytics.
On top of its user-friendliness, Instapage tracks all analytics, from clicks, form submissions, heat maps and more! It is truly a tool that makes digital marketing more accessible."
It starts from $149/month.
What really makes Leadpages stand out is its eCommerce functionality.
If you're running an eCommerce store (or handling eCommerce clients) it offers built-in payment systems. Its themes are mobile and tablet responsive and, like other landing page tools, you can A/B test your pages and integrate with other digital marketing tools.
Did you know SMS messages have a whopping 98% open rate? Leadpages also offers SMS marketing capabilities.
And the best part: starting at $27/month it's actually one of the cheaper options!
Another excellent landing page builder which offers a feature set that is on-par with the other contenders mentioned above.
It has over a 100 mobile responsive templates, excellent customer support, and an easy to use drag and drop editor.
Its built-in popup tool and A/B testing features also makes it a great option for marketers and business owners looking to amp up their conversions.
Wishpond even goes a step beyond most landing page builder tools by offering features like marketing automation, email marketing, and contest promotion features.
Prices start at $49/month and go up to $199/month.
4. Analytics & Tracking Tools for Marketing Agencies
Your client has a beautiful website.
Their product/service offering is awesome.
You've devised and implemented an excellent marketing strategy for them.
But everything's going to waste if you're not tracking your efforts.
You need to constantly track, test and optimize your efforts to deliver the best results.
But you already know this. So let's skip ahead to the best analytics tools for marketing agencies.
The absolute best analytics tool?
Ask anyone and they'll say Google Analytics.
Because it's true.
The biggest advantage it has over other tools is the extensive data it has access to. So along with tracking all the basic information about your website users and behaviors, it also measures advanced data like goal funnels and provides options for industry benchmarks.
And the best part?
It's absolutely free. So as an agency running multiple accounts, Google Analytics needs to be a vital part of your marketing tools arsenal.
Similar to Google Analytics, Google search console is a completely free service that helps you to track, optimize, and troubleshoot your client's website presence in search engines.
Where GSC really shines is in its ability to provide SEO-related data that you wouldn't find in Google Analytics.
Databox is an excellent data tracking tool which pulls all your website insights into one place and allows agencies to automate client reporting.
You can access high-level views across all your clients' accounts, to ensure you're constantly up-to-date with the latest findings.
Best of all, there's a no-pressure free version that you can try out without any hidden charges. Giving you the freedom to see if this marketing tool is really worth the $49+/month they are asking. (hint: it is!)
As Capterra aptly puts it, 'Supermetrics is a reporting automation tool that helps digital marketers pull all their PPC, SEO, social and web analytics data into one place including spreadsheets and data visualization platforms for reporting and analysis.'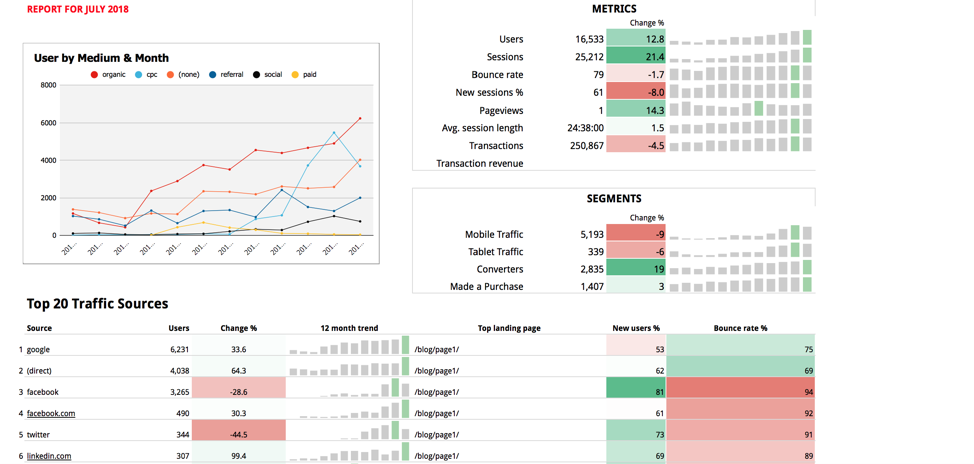 With a very helpful customer support team and intuitive interface, it works really well for digital marketing agencies.
Supermetrics offers a great free-forever version of their software, but it is limited to a couple of integrations. If you want to add more integrations, prices start at $99/month.
An easy to use, easy to install marketing tool that tracks behavioral interactions on your site.
Its heat maps, scroll maps and A/B testing features all make it a must-have tool for marketers.
CrazyEgg even has a built in editor that allows you to make edits to your pages on the fly, test them, and leverage behavioral data to select a winner.
Its pricing starts at a very reasonable $24/month and depending on how many accounts you have, it can go up to as much as $249/month.
HotJar is another powerful tool for marketing agencies and marketers that allows you to track and optimize your website. It offers everything from heat maps and behavioral interaction recordings, to user feedback collection.
With a free forever option and multiple paid options starting from $39/month (and a 10% discount for marketing agencies!), it's a well-loved tool for marketing agencies.
An incredibly versatile tool that provides tons of insights based on omnichannel surveys. Through NPS, CSAT and CES, you'll be able to gather data in real time. Zonka enables you to close the feedback loop through actions and tasks management concerning the response to particular information.

Apart from these features, Zonka Feedback also integrates with other useful marketing tools like Mailchimp, Slack, Google Sheets, Zendesk, and Shopify.
The pricing starts at a modest $29 a month for up to 1,000 online responses and email sends, up to the enterprise program at $429 unlimited responses, 150,000 email sends, and 4,000 SMS credits. Each option can be tried out for free through a 15-day trial.
Social Media Management and Reporting Tools for Digital Agencies
From providing social media reports to scheduling social media posts, these platforms do it all. If you manage social media for your clients, you need to ditch the spreadsheets and manual work and consider one of these social media marketing tools for agencies.
So let's take a look at some of the best social media management tools for your marketing agency.
1. Social Media Management Tools for Marketing Agencies
Self-promotion alert! As a social media management tool built for and loved by agencies, we had to take a moment to highlight our platform.
Why is HeyOrca one of the best social media management tools for marketing agencies?
From easy client approvals and collaboration in real time to creating mockups of your posts (for easy visualization), HeyOrca is specifically designed to help agencies save time managing their social media clients.
Visually plan, create, and schedule social media posts that publish directly to platforms like Facebook, Instagram, Twitter, LinkedIn, Google My Business, and Pinterest!


HeyOrca is built for social media collaboration – you can easily share content with your clients or team for feedback and social media post approvals.


HeyOrca makes it easy to create visual and easy-to-understand social media reports that you can share with your clients.


Unlike other social media management tools, HeyOrca calendars come with unlimited users.


There's almost zero learning curve, so your entire team (and clients) can easily use it to streamline your social media collaboration and client approval processes.


HeyOrca is constantly releasing new features to help social media managers save time based on customer feedback. Features like Direct Instagram Publishing, Facebook Mobile Post Previews, Instagram Grid View, Best Times to Post, and a direct integration with Canva

With so many powerful features, unlimited users, and world-class customer support, agencies love HeyOrca's pricing.
Here's what our customers have to say about us on G2:
"There is no better tool than HeyOrca.
Not only is the platform completely user friendly but if you do run into any issues, their staff is easily accessible and readily available to help with anything.
All my clients are in one place and it is super easy to have them log in and explain what is what, make any changes, get approvals, etc.," says Michelle F, Social Media Account Coordinator.
When asked what she likes best about Hey Orca, Jennifer B, says, "All the things! Love having the ability to look at an overview of the content calendar – from days to weeks and months out. It's very beneficial for stakeholders to be able to fully see a mocked up post, just as it will appear in social vs. using something like a spreadsheet. Say no to spreadsheets!"
Laura K, an art director and social media manager, agrees with the two and adds, "HeyOrca's calendar is amazing for planning, I love the design and functionality. It has quickly become *the* tool I simply cannot live without!
However, I have to say my absolute *favorite* thing about HeyOrca is their amazing, friendly, magical team! The people behind this brand make it wonderful! They are always accessible, genuine, and willing to do whatever they can to make your life in social productive and pleasant!"
Want to Save Time Managing Social Media Posts, Approvals, and Reports?
HeyOrca lets you effortlessly schedule social media posts, collaborate with your team, get stakeholder approvals, and report on your results… all from one place.
(no credit card required)
Uber-popular in the digital world, Buffer is a powerful social media management tool that is especially popular with budget-conscious small businesses. It offers powerful core features like scheduling, reporting, and engagement.
Its free plan includes 1 user, 3 social media accounts, and 10 queued posts , while its paid plan (starting at $15 per month) includes 1 user, 8 accounts, and 100 queued posts per account.
You can also integrate it with your client's blog, so new blog posts can be scheduled to post on social media with ease.
With 192 million daily active users on Twitter, you can't afford to miss out on the plethora of marketing opportunities this social media platform offers.
That's where TweetDeck comes in.
According to Twitter, "TweetDeck offers a more convenient Twitter experience by letting you view multiple timelines in one easy interface. It includes a host of advanced features to help get the most of Twitter: Manage multiple Twitter accounts, schedule Tweets for posting in the future, build Tweet collections, and more."
If you manage multiple Twitter accounts, and don't dabble much in other platforms – TweetDeck is going to supercharge your social media process.
The best bit?
It's absolutely free.
If you struggle to find the right content to post on social media for your various clients, you need Feedly in your life.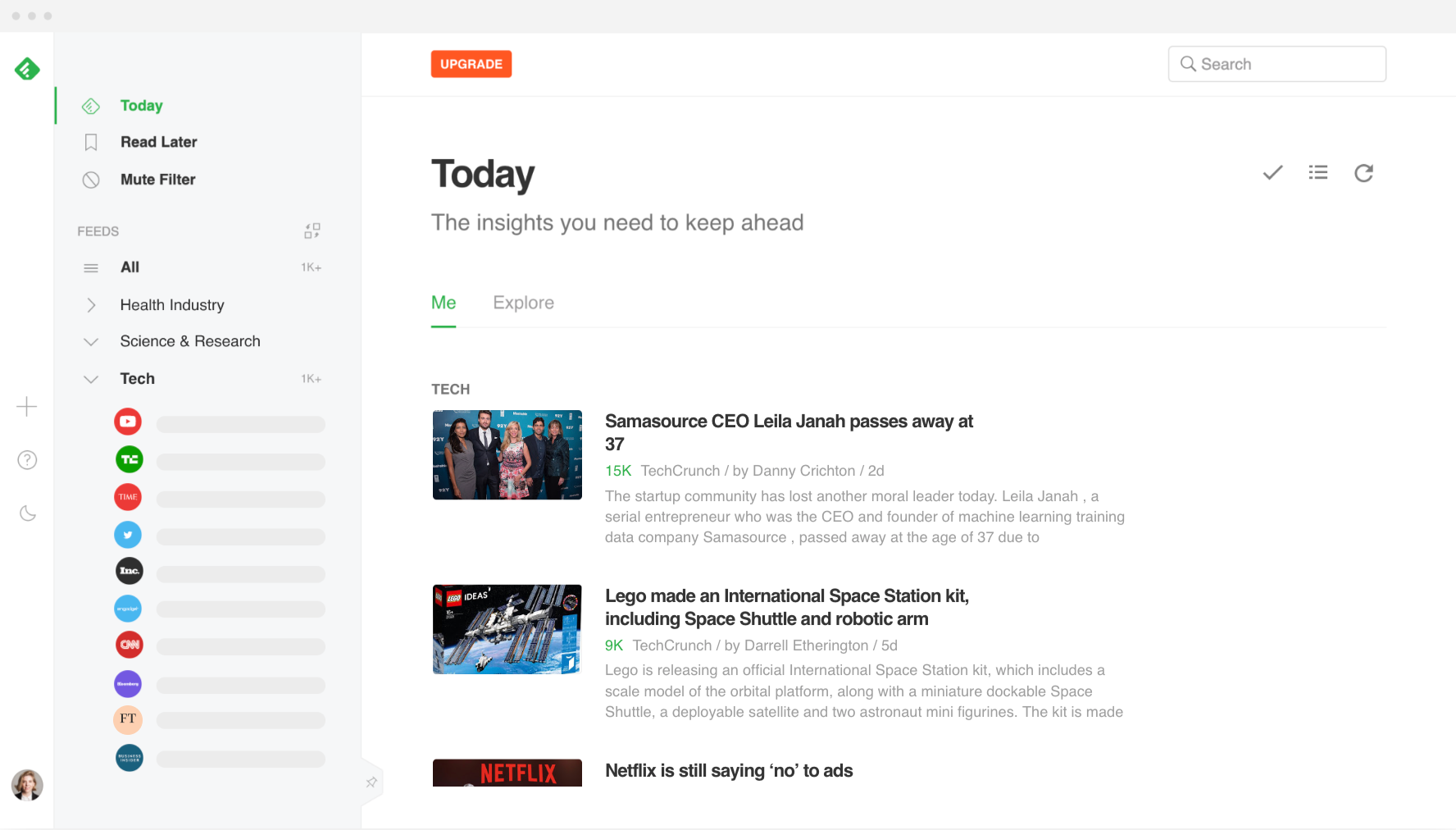 It's a feed aggregator tool that organizes different types of content like blog posts, news articles, etc. and helps you easily find relevant content to share on social media.
You can also categorize feeds for different topics and sub-topics. This marketing tool is super-easy to use and with it's low price tag (FREE), there's no reason to not give it a go.
Hootsuite is a veteran in the all-in-one social media management tool space. It offers a variety of features, integrations, and pricing options.
Hootsuite is especially suited for small businesses that are managing individual brands or enterprise businesses. They also offer a free forever version of their platform with limited features.
2. Social Media Reporting Tools for Marketing Agencies
As an agency, you need advanced analytics tools to help you optimize your clients' social media marketing campaigns.
Here are 3 of the top social media reporting tools for marketing agencies.
Hashtags are the key to growing your client's audience on social media.
And tools like Keyhole provide a real-time performance analysis of your marketing campaigns and the industry in general.
This powerful tool gives you a clear look at times where your audience is most active and the most popular hashtags for your target audience.
Social listening is essential to building a thriving online presence. You need to know what your audience is saying about your brand.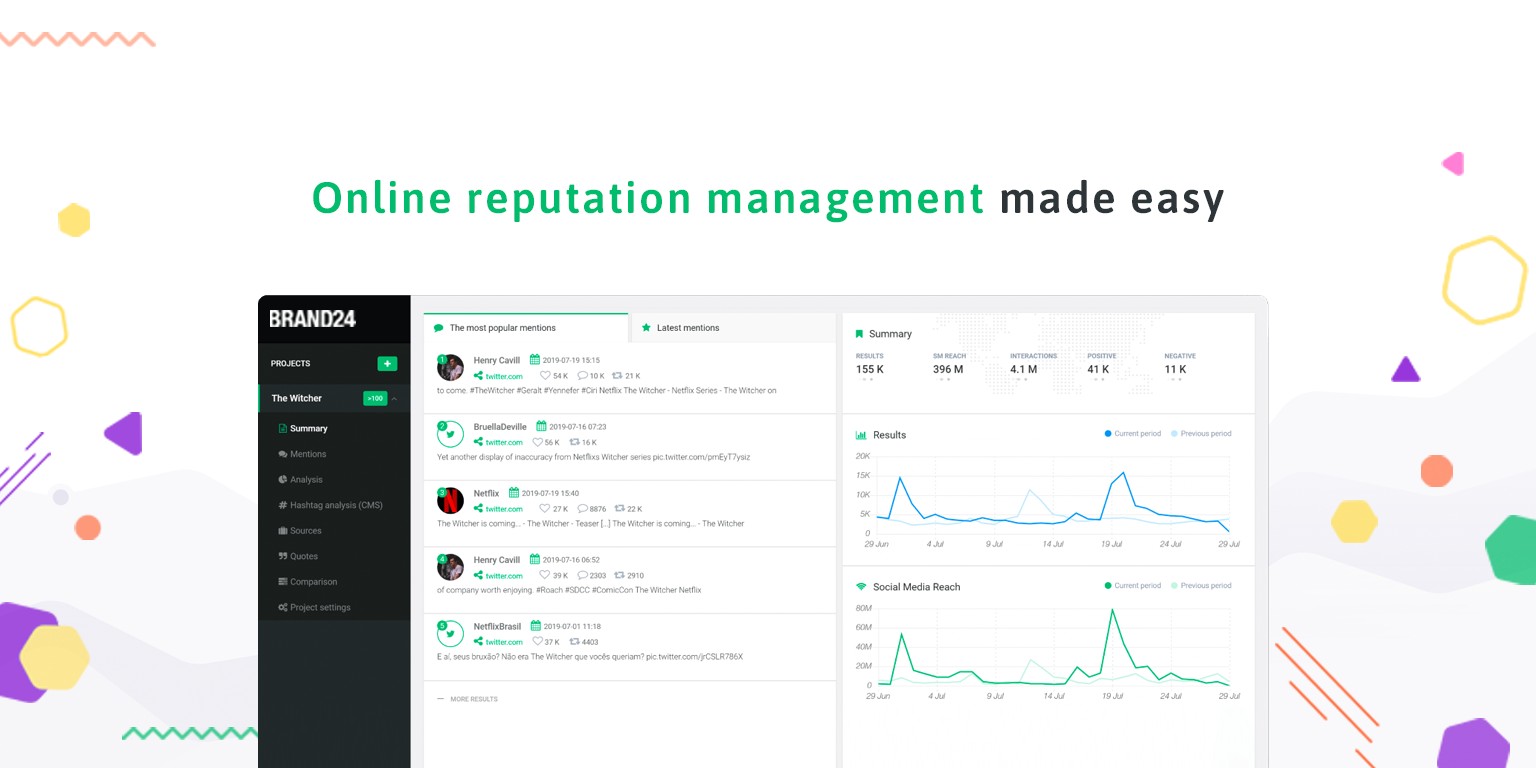 Brand24 gives you "instant access to mentions about your brand across the web." It also gives you insight on potential customer sentiments about the brand and which industry influencers are worth your time and money.
Pricing starts at $49 per month and goes up to $199 per month for bigger teams.
Snaplytics is a desktop tool for scheduling and tracking Stories content.
With the growing popularity of Instagram Stories and SnapChat content, digital agencies need a tool that can help them schedule and monitor the effectiveness of their Stories content.
Pricing starts from $19 per month and goes up to $149 per month.
TIP: HeyOrca's social media calendar tool also includes social media reporting that lets you automatically create visual reports that you can share with your clients.
Marketing Automation Platforms For Marketing Agencies
From automating email campaigns to automating sales, a marketing automation platform is very important for digital marketing agencies.
However, with so many automation platforms out there, which one is the right tool for your agency?
HubSpot is an all-in-one marketing automation platform that lets you generate leads, close deals, and manage your clients' pipelines on auto-pilot.
HubSpot offers a variety of packages (which they call "Hubs") that offer functionality and features specific to Marketing, Sales, Customer Services, and Website Management.
We'll focus on the Marketing Hub.
When they say "all-in-one" they truly mean it. Some of the most notable features in HubSpot's Marketing Hub include:
Contact management
Email marketing
Landing pages
Forms
Automated workflows
Live chat
Social media scheduling
PPC ad management
Video hosting
Traffic and conversion analytics
The Marketing Hub starts at $200/month for 100 contacts and $800/month for 1000 contacts, to $2400+ for 10,000 contacts. They do also offer a free forever version of all their various Hubs.
If you've got the budget it for it, you should definitely consider this automation tool for your agency.
From sending triggered promotional emails to building complex automated email campaigns, every digital marketing agency needs a robust email marketing automation software.
MailChimp is an extremely useful and powerful email-marketing automation tool that does it all and is super easy to use.
Dave Nilsson of Converted Click says, "For digital marketing agencies, tools like MailChimp are gold. They help you send bulk emails and come with easy WordPress integration. So, you can target your potential clients and leads in a fluid and effective manner. The best thing is that they have a flexible pricing plan. So, you can choose the one that matches your needs."
Its pricing ranges from $14.99 – $299 per month, based on features and contacts.
If you're looking for a powerful marketing automation platform with an affordable price tag, you should take a closer look at ActiveCampaign.
Its got a bit of a steep learning curve, but ActiveCampaign is known for being a powerful, flexible, and affordable all-in-one tool for marketing agencies and marketers.
ActiveCampaign might lack some of the bells and whistles of a platform like HubSpot, but its palatable pricing and long list of integrations make up for that.
Pricing starts at as little as $9+ per month, but its most popular package (especially for agencies managing multiple clients) will cost you $129+ per month.
"Keap's CRM, sales and marketing platform was built to help you dramatically grow your sales and save time by eliminating business chaos."
And it certainly lives up to expectations.
Keap (formerly InfusionSoft) is a very popular marketing automation software used by several big names in the internet world. It offers many of the same features as HubSpot and ActiveCampaign, but where Keap really shines is in its automation functionality.
Keap's automation tools come with a bit of learning curve, but they also offer a huge selection of pre-built workflows that you can implement in minutes!
With guaranteed follow-ups, better lead conversion rates, and ease of use, you'll want to take a closer look at this automation tool for marketing agencies.
Keap's pricing starts at $40/month (for first 3 months) for 500 contacts!
Agency CRMs
As your agency scales, you'll have to ditch the spreadsheets and seriously consider a CRM to help you manage all your clients in one place, communicate with them efficiently, and track/close deals seamlessly.
With multiple employees and multiple clients, you can no longer afford to manage your agency manually – you need a software that does all the managing for you and keeps you on top of all leads and communication.
So what are some of the best CRMs your agency can invest in?
An all-in-one marketing, sales and management platform, Go High Level was created specifically for agencies keeping their needs and wants in mind.
From client acquisition and link building, to automating your business – it does it all.
Starting at $300/month, it allows you to have unlimited accounts.
But like all good things come at a cost, Go High Level comes with a steep learning curve. So if you and your employees have time at hand and are willing to learn everything about this awesome CRM, you'll want to consider Go High Level as a marketing tool for your agency.
With an excellent customer support team and a reputation for ease of use, Agile is a great CRM for agencies with time and budget constraints.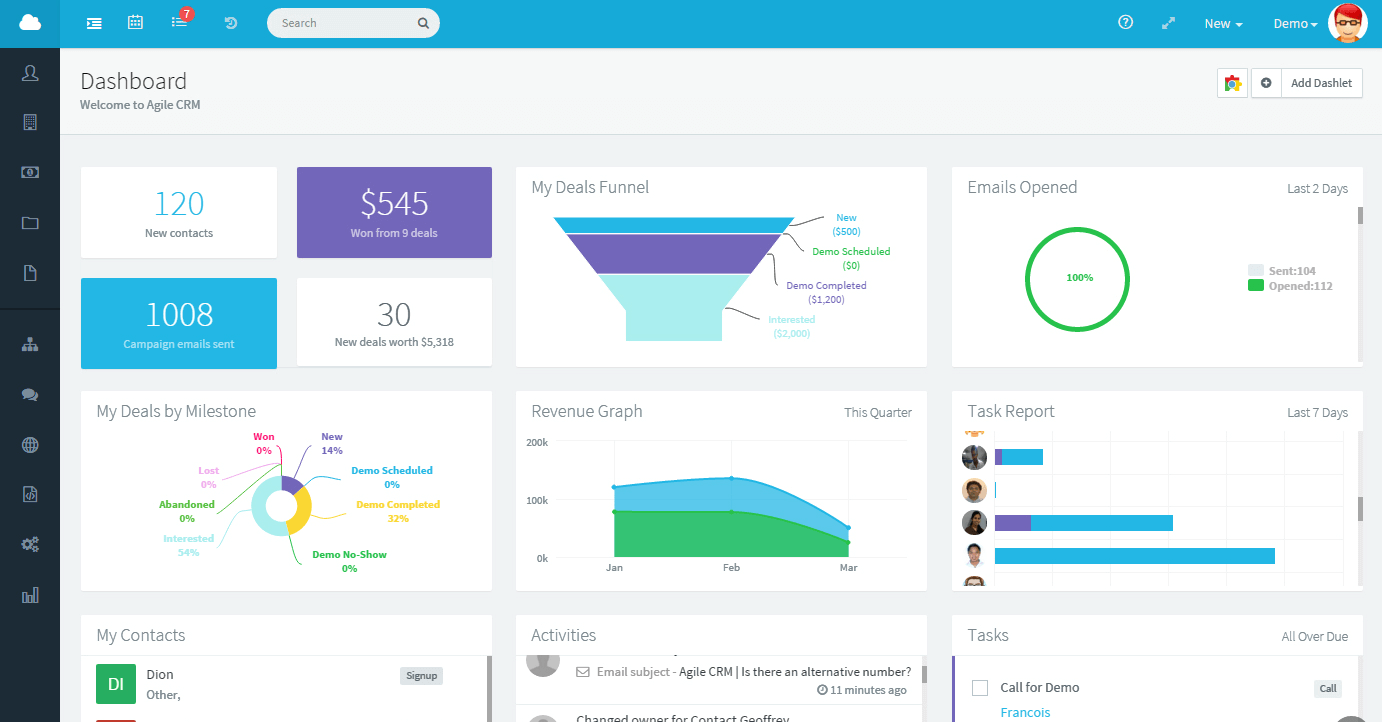 It's an all-in-one CRM that helps agencies with campaign management, lead management, marketing automation, referral tracking, and so much more. Agile CRM also does a great job of integrating with sales, marketing, and service tools that your agency is already using.
And at $8/month, it's super affordable price tag makes it a must-use tool for marketing agencies of all sizes.
A unified platform, Bitrix 24 is an all-in-one project management, collaboration and lead management tool for marketing agencies.
Free for up to 12 users and $99/month for bigger teams and agencies, it's a great option for agencies looking for an all-in-solution. One of its disadvantages is its complex user interface and a steep learning curve, but if you can get past that, it offers and excellent bang for your buck and has pretty much all the features you'd expect from a robust CRM.
One of the most popular CRMs in the digital sphere, Salesforce is an incredibly powerful CRM software that offers a dizzying array of functions. Seriously, there's virtually no limit to what you can do with Salesforce.
Its CRM offers three main functions: sales, marketing, and customer support. You can hire developers to customize Salesforce to meet your every need, take a crack at it yourself, or find a plethora of independent apps built for Salesforce in their AppExchange.
This best-in-class tool for marketing agencies does come with two big caveats:
A steep learning curve
A hefty price-tag
Want to Save Time Managing Social Media Posts, Approvals, and Reports?
HeyOrca lets you effortlessly schedule social media posts, collaborate with your team, get stakeholder approvals, and report on your results… all from one place.
(no credit card required)
Project Management Tools for Agencies
According to the Marketing Agency Growth Report 2018, "43% of marketing agencies don't find enough free time to focus on administrative tasks such as staffing, client on-boarding, new business investments, etc. 29% of agencies experience difficulties in maintaining cash flows and 35% of agencies face hiring and talent management problems."
Solution?
Investing in a project management system that not only streamlines your processes, but also helps you scale your agency faster.
So without further ado, let's dive into the 5 best project management tools for marketing agencies.
Asana is one of the best project management tools in the digital world. You can create tasks and assign them to team members, communicate with team members within these tasks, and move them along (through it's visual kanban option) as your project progresses.
It makes communication and collaboration seamless for growing agencies.
It's absolutely free for smaller teams of up to 15 members, and for bigger teams that are looking to take advantage of Asana's complete feature set, its pricing starts at $10.99 per month.
"An all-in-one suite to manage people, projects, and everything in between", Clickup is an excellent project management tool for marketing agencies.
It does it all – email management, time tracking, setting and tracking goals, project management – and also integrates with all your favorite tools.
Best of all, it's super affordable! They offer a free forever version and paid subscriptions start at $5 per month.
You've probably seen their ads. Monday.com is literally everything you ever wanted in your project management platform!
With a simple, visually intuitive layout, Monday makes collaboration and project management a breeze for teams. It's super flexible and lets you work with whatever methodology you're comfortable with.
It also integrates with many of the marketing tools your marketing agency is likely already using.
Pricing starts at $17 per month, so it's a little costly compared to other tools, but highly effective.
Trello is a mix between a pin board and a white board and makes it super easy for teams to collaborate on projects together. You can create multiple boards and multiple cards under each board, and communicate with team members within those cards.
This helps team leaders keep an eye on everything that's going on. You can also add clients if they'd like to keep track of progress.
Working in Trello is a breeze, which is probably why more and more agencies are shifting to Trello.
"Using Trello has allowed me to better manage my workload, routine and build a healthier work/life balance which has been great for productivity," says Jordan Rolf, Marketing Executive at EposNow.
It also offers a free version so you can check it out before opting for its paid version at $12.50 per month.
Teamwork makes collaboration between teams and clients effortless.
You can create customized workflows, set and track tasks, get status updates in real-time, and do so much more with it. It also integrates with most of the marketing tools your agency is already using.
And while its free plan is great for small teams, its paid plan is only for $10 per month.
SEO Tools for Marketing Agencies
Want to add a new revenue stream to your offering?
Looking for easy-to-use tools to optimize your existing client's search presence?
Your search ends here. Some massively popular and hugely effective SEO tools for marketing agencies include:
Ahref's is one of the most popular SEO tools in the digital world.
Daniel Foley, SEO Team Manager at HomeTree, shares, "Ahrefs has been very effective in getting our site ranked for several major keywords, and getting us to 350,000 visitors per month."
One of its best features is the site audit tool.
Justin Smith, CEO at OuterBox, explains, "The site audit tool provides a look under the hood so to speak, providing actionable insights on how you can improve a website's ranking. After crawling all of the pages on your site, the site audit tool will give you an overall health score and a list of potential issues for you to check. Things like missing tags, duplicate content, broken links, content quality, and page speed performance are all factored into the report.
We've found this to be a great tool to diagnose potential issues for our clients' websites as well as our own. It makes keeping tabs on the overall health of your website extremely easy.
While this is just one of the many tools in our marketing agency's arsenal, we find it to be incredibly valuable and something we rely on daily."
Primarily an SEO tool, Ahrefs allows you to find new keyword opportunities, look at the tech health of your website, source new content ideas and find link building wins.
And as Matt Caspell, founder of Lumo Digital, says, "There's also a small but growing section of PPC insights to show you how competitive certain PPC keywords are, who is bidding on which keywords and what their ads look like.
Although the keyword insights are mostly there for SEO purposes, they also just speak more broadly to demand and competition for a product or service country-by-country.
Whenever I'm assessing a business for how successful I think it could be, I use Ahrefs to look at their brand and non-brand keywords to get a sense of their market size. Keyword difficulty also suggests how competitive their keywords are, and so how challenging taking top rankings in Google might be."
At $999 per month for agencies, it is a little at the pricier side, but well worth it.
As Luat Duong, Search Engine Optimization Lead at Scandinavian Biolabs, aptly says, "While it is expensive, it's the Bugatti of SEO tools."
"SEMRush is, by far, our favorite marketing tool for digital marketing agencies", says Kevin Pike at Rank Fuse Digital Marketing.
"With SEMRush, you can gather information on social media, SEO, PPC, and content marketing. Very few other tools provide data and information about so many aspects of digital marketing all in the same place. In fact, we have discontinued using a variety of other tools in favor of SEMRush.
For example, we used to get more information from Answer the Public, but SEMRush has a similar tool that we don't have to pay extra for, and we feel like it provides more (and better) data."
Kevin Miller, Co-Founder and CEO of GR0, agrees and adds, "SEMrush is a great SEO tool and is best for their Traffic Value metric and their position tracking. I use this to go and choose my top 25 keywords per brand and monitor their fluctuation day over day, week over week, and month over month. This is fantastic to keep track of where we are for our most valuable keywords to the business."
It's pricing starts at $119.95 per month and goes up to $449.95 per month.
If you're looking to build, deliver and sell SEO packages to your clients without having to hire outside help, Hike SEO is the perfect tool for you.
From building a robust SEO strategy to implementing and tracking it, it's powerful AI-based technology helps you through all the processes of this journey.
Best of all, it packs in so many great features for such a low price. Prices start at $59.99 a month with special packages for marketing agencies.
Wrapping up
When you're running an agency and managing multiple clients, you're expected to be at multiple places at once. You need to ensure all operations are running smoothly and that your client experience is nothing short of amazing.
Marketing tools help you do that.
Investing in the right tools for your agency can not only help you streamline all your processes, but also ultimately scale your agency.
Are we missing any of our favorite tools? Email datis@heyora.com if you'd like to include them in this guide.
---
Try HeyOrca free for 14 days and see how you can fight burnout by saving time planning, publishing, and collaborating on your social media content.