In case you haven't heard yet, Instagram Stories are going to be a huge part of the social media landscape in 2019 for brands. Stories are already huge in the social media community, and their popularity is only growing.
Although Snapchat pioneered and educated the market about this new format in 2016, Instagram (Facebook) really took it as its own, ran with it, and made all the innovations to improve it for users and advertisers.
If you haven't jumped on your Instagram Stories game yet to help your clients' social media marketing skyrocket then you better catch up.
We spoke to Matt Navarra in last week's webinar about the importance of Stories, where they are heading in 2019, what you need to know about them as a platform, and how to design them for your audience.
Download the full webinar recording and slide deck here. You won't want to miss it.
Why Use Instagram Stories for Your Marketing Efforts?
There are so many reasons why Stories are owning social media right now and are eating your news feed: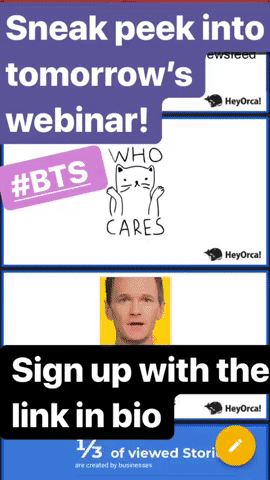 1. They are extremely fun to watch and interact with.
Ultimately Stories allows you to tell a true story that is chronological and time bound. Your audience understands where they are in the continuum of the story and they feel connected to it.
2. They inspire creativity and engagement through design, stickers, and interactive components.
The reason that Facebook is pushing so hard for Stories is that it allows brands to interact with their audience. We are seeing Facebook putting a greater emphasis on community building and interaction in their product roadmap. As a result we are seeing Instagram continue to release new engagement tools almost every month in the form of stickers and in-app features.
3. They offer vicarious experience, which is highly addictive and desirable to watch.
This vicarious experience concept is similar towhat you find on reality TV shows–it's what makes them so good and bad at the same time. You feel like you are part of the story and that you are invested in them on an emotional level. That is what you should want to achieve as a brand. Try to allow your audience a glimpse into your brand and make them part of the story.
4. They capture the audience's full attention and take up the full screen real estate.
As marketers, our competition is cat videos and cute baby videos. We are competing for attention. Stories are great because you get maximum attention in that split second as it takes up the entire screen real estate. The more engaging your story, the longer audience attention you get.
Mastering Instagram Stories for 2019 Webinar Recap
Here's a short recap on why you should take Stories seriously in 2019 and adopt them into your social game plan:
Stories are growing in popularity. Instagram has over 400 million Daily Active Users.
2. Facebook will continue to invest in Stories technology for its users and its advertisers.
3. Stories offer a unique format that no other social networks do or have mastered.
4. It's easy to create beautiful, branded content in app on the spot or to post at a later time. Instagram offers extremely low barriers for creation.
5. Instagram offers various engagement tools (stickers) to help you improve audience engagement with your content in creative ways. You can collect a lot of audience information through Stories using them.
6. You can use software to help you design even more beautiful Stories content.
7. Stories give your brand an opportunity to create high-quality content that engages your community in a fascinating and exciting way.
8. You can go beyond your clients' services and products and highly personalize their brand, which help improve audience brand-affinity.
9. Working with clients on Instagram Stories content presents its own set of challenges. Luckily you can use the Instagram App, HeyOrca, and file sharing tools to collect organic and vicarious client content.
10. Don't forget to use Instagram Business and other social media analytics tools to monitor ROI using KPIs like Completion Rate and Engagement Rate.