If you've been living under a rock and haven't heard this yet, Instagram is pretty much the fastest growing and most popular social network out there. As of June 2018, it currently sits at 1 billion active users, and has 500 million daily active users (Holy heck)!
Making your social media marketing Instagram-oriented is one of your best bets to help you grow your brand to new heights. Stories are one of the best ways to do that. They add an additional layer of searchable fun content that everybody loves.
The only small task you'll have to master is standing out enough so you can get great engagement and improve your follower count.
Here are the freshest tips to help you master your Instagram Stories styling. These tips will help you boost engagement, create beautiful Stories, and get more eyes on your content prize.
Styling Your Instagram Stories
Colour Your Stories
Part of the beauty of Instagram Stories is your ability to get creative and fun with them. Stories are a chance to inject personality, style, and fun into your brand.
Nothing is fun without colour. Use the Instagram colour palette or the eyedrop tool to choose whatever colour you want for your Stories.
Here are the best ways to add more colour to them.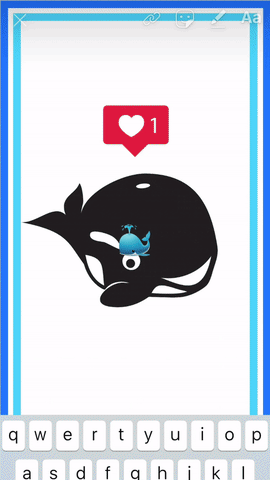 1. Make a gradient. Choose any colourful emoji and pinch-zoom into it until the emoji is huge. Drag the emoji to the edge of the screen and continue zooming in until you get a colour gradient effect.
2. Image reveals. Apply the colour bucket effect and use the eraser tool to erase the parts of the image you want to reveal.
3. Colour bucket effect. Use the drawing tool and choose a colour from the colour picker. Hold and press the screen to change image colour.
4. Transparent colour bucket effect. Use the drawing tool, hit the transparent market button, and choose a colour from the colour picker. Hold and press the screen to change the screen overlay color over the image.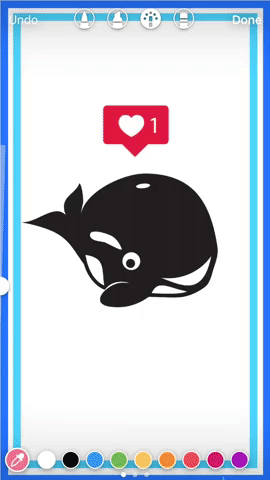 5. Choose any colour on the spectrum. Using the drawing tool, press and hold the palette and slide your finger along the spectrum. Tapping different colours gives you different spectrums!
6. Draw. Use the draw tool and choose between the pen (solid colour), the highlighter (transparent colour), or the neon pen. Choose pen colour by using the pallet below or choose a colour in the image using the eyedropper. Drawing is great to circle, highlight, or point to things in your Stories.
7. Change the pen size. Use the slider to the left to change the pen size for your drawings.
Focus On Font
You need to communicate a story and a message in your Instagram Stories.
Don't forget that a large population of Instagram users watch Stories on mute.
If you're saying something important, make sure all viewers can understand it. Summarize or add in some keywords that help tell the story for you.
The catch is: don't be boring. Avoiding this by using different text sizes, layouts, spacing, and type-fonts will help you spice things up.
8. Font Typeface. Use different font modes by tapping between classic, modern, neon, typewriter, or strong when the text field is open.
9. Font variety. Change font modes between text lines by creating a new text field and changing the font setting.
10. Font Size. Change the font size by sliding the size bar on the left. It only appears in the classic font mode.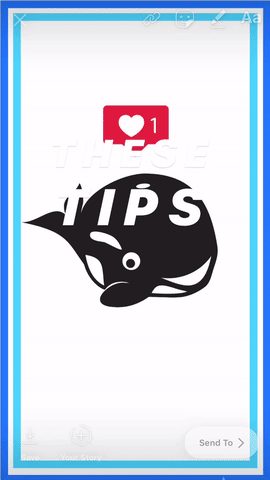 11. Text alignment. Switch between centre, left, or right using the first button to the left when the text field is open. You can have multiple text fields with a different alignment.
12. Highlight the text. Highlight the text by tapping the text background button (second to the left at the top). You can choose colours on the colour palette below.
13. Change the text size. Type in the classic mode and press and hold the text. Pinch and zoom to adjust the size. This only works for individual text fields.
14. Change the size of the text field. Exit the text editor, pinch, and squeeze the text field to your desired size.
15. Colour your text. Use various colours in the pallet to change the colour of your text. Go with a colour scheme that maximizes contrast between the text field and the background. You can also go with a monochromatic colour series, or even drag the eyedropper tool to pick a colour that matches the background of your Story's image/video.
16. Font spacing and blocking. You can add spacing and blocking by placing additional spaces between letters and words. This helps you style your text, emphasize words, and create different font lines.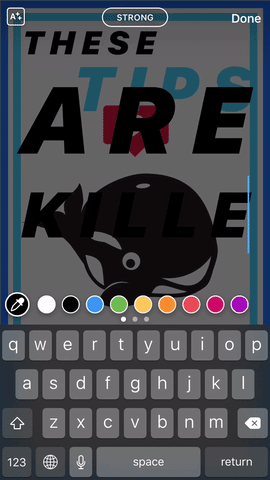 17. Tell a written Story in a series. Write separate lines and save the Story with each new line to make a written Story.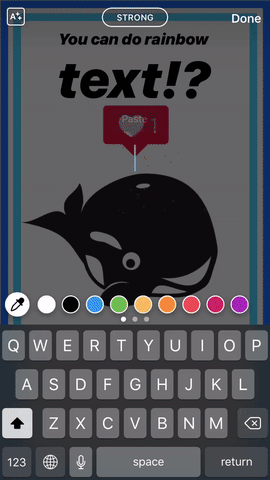 18. Write with the rainbow. Highlight the full text, hold the last selection cursor with your left hand. Press and hold the colour palette with your right finger. Drag both fingers to the left. You can do monochrome text too by choosing a colour from the second or third colour palette with the same method.
19. Shadow text. Make your text stand out and look snazzy by creating a shadow effect. Copy-paste a text field and choose different colours for each text field. Drag the text fields to cascade and create a shadow effect. Keeping darker colours on the bottom looks best!
Get Creative With Your Storytelling
20. Layer photos in your Stories. Create Story images that build through the snapshots as they unfold. Edit the first as usual, save before posting, then re-upload and add your next edit. Continue these steps until you're finished.
21. Use gifs. You can find Gifs in the sticker section. Once you tap, you can search for Gifs using keywords. Gifs themselves can transform your Stories and add a lot of character. They can even be a story in themselves!
22. Emoji and stickers. Find stickers and emojis in the sticker section (third button from the right). There you can find hashtag, mention, poll, and question stickers as well as emojis and other fun stickers too.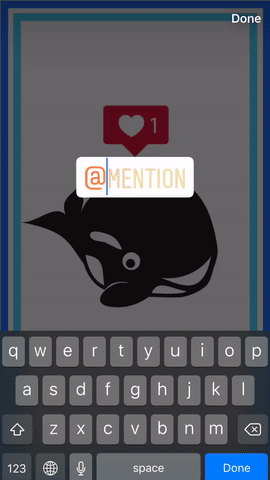 23. Photos. Take them directly from your library by swiping up when you're making your Stories. You can also add photo stickers in the sticker section.
24. Videos. A huge part of engaging Stories is video content. Spice up your Stories feed by playing with live, hands-free, rewind, and pre-recorded videos.
25. Video settings in superzoom. Tell an even more playful story in the superzoom by selecting from different active filters.
26. Boomerang. Boomerangs are a fun and trendy way to tell a fun story. Everyone loves Boomerangs. Try dancing, jumping, or pointing. You'll see what we mean.
27. Pin emojis and gifs to photos, videos, and Boomerangs. Choose an emoji and hold and press it to a spot on the video. A slider will appear, and you will be able to select a spot and location in the video/photo/boomerang to pin the emoji. Don't forget that tag and hashtag stickers help your Story become discoverable.
28. Use questions to engage your audience (and extract information). The question sticker is a great opportunity to extract information from your viewers or get a chance to boost your engagement. Get them to participate in an AMA, submit their social media handles, or ask for more information on your services.
29. Screen record to show your products live, to display your feed, or to create quick video content. Screen recording is available through IOs. Add the feature through your Settings and start recording your actions on your phone! Just remember that Stories are 5 seconds each, so don't make the recording too long!
Clever Stories Design Tips
Here are a few extra fun tips that you can use to spice up your IG Stories design game… just for good measure!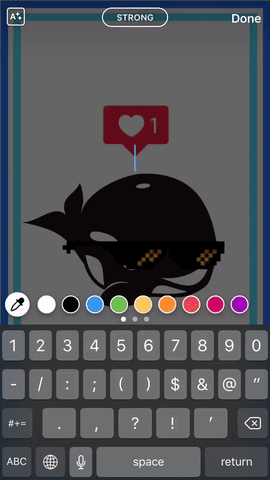 30. Make text stand out with banners. Type the underscore symbol using the classic or strong text font. Zoom in until it's the desired width and thickness (you might have to let the underscore trail off the screen). Type a new next field and drag it on top of the underscore to highlight your text on the banner. You can use a variety of characters and letters to make text banners and backgrounds (*, . , ~ , ). Get creative!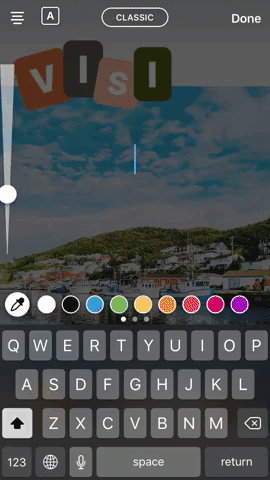 31. Block letters. Using the strong or classic font, type individual letters in new text fields. Choose the highlight feature for each text field. Pick a highlight colour to set as the background for the letters.
Summary
It's important to stay on the ball with your Instagram Stories. Just remember to do what you can to stay original while engaging your audience!
Find out what works with your audience by switching up your Stories styling, recording the results, and testing it. Experiment with creative, brainstorm with your team, and keep good notes on what works and what doesn't.
Just make sure that you're spreading your Stories throughout the day, rather than clustering them all at once. This will help you bring your Stories to the front of your audience's feed so you can get the engagement you need to gauge results.